Browiner in 2015 Arab Health
Arab international medical equipment fair (Arab Health, 2015), was held on January 26, 2015 - January 29 in Dubai international exhibition center. Browiner participated in this exhibition for the first time in the Middle East with its new digital mobile X-ray system. MS - 200 and MS - 300 series have attracted the attention of many participants and consultants.
MS - 200/300 series mobile DR, is a new concept of product, is the upgrade of the bedside X-ray machine. The power can reach 20 kw (32 kw), satisfy the requirement of the whole body shot; the Machine is equipped with battery management system, not only can satisfy the power boost, help you easily move the device, and when at shooting it doesn't rely on the power grid, realize the use of the internal battery to shooting requirement, make you easily applied in bed, ICU, etc., even the wild place ; Rich expansionary, can satisfy a variety of plate connection definition, you can have more choice; In addition, remote control exposure, exposure time delay, more external interfaces, meet your various demands.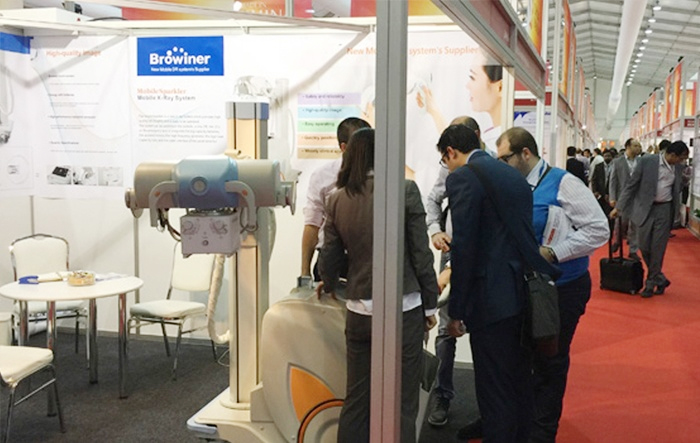 Many fair customers give good comment on our product for the mobile operation performance and clear image quality, Germany. Italy manufacturers come to discuss OEM business. Arab international medical equipment fair is the most professional medical devices and instruments exhibition, in middle east region, every year attracts a large number of international professional audiences .The exhibition will become a very important channel for Browiner 's close to the local customers, the company's commitment to understand the local market demand, for providing global customers with more valuable and innovative products and services.